Gold's Gym - Jersey Shore Agreement Terms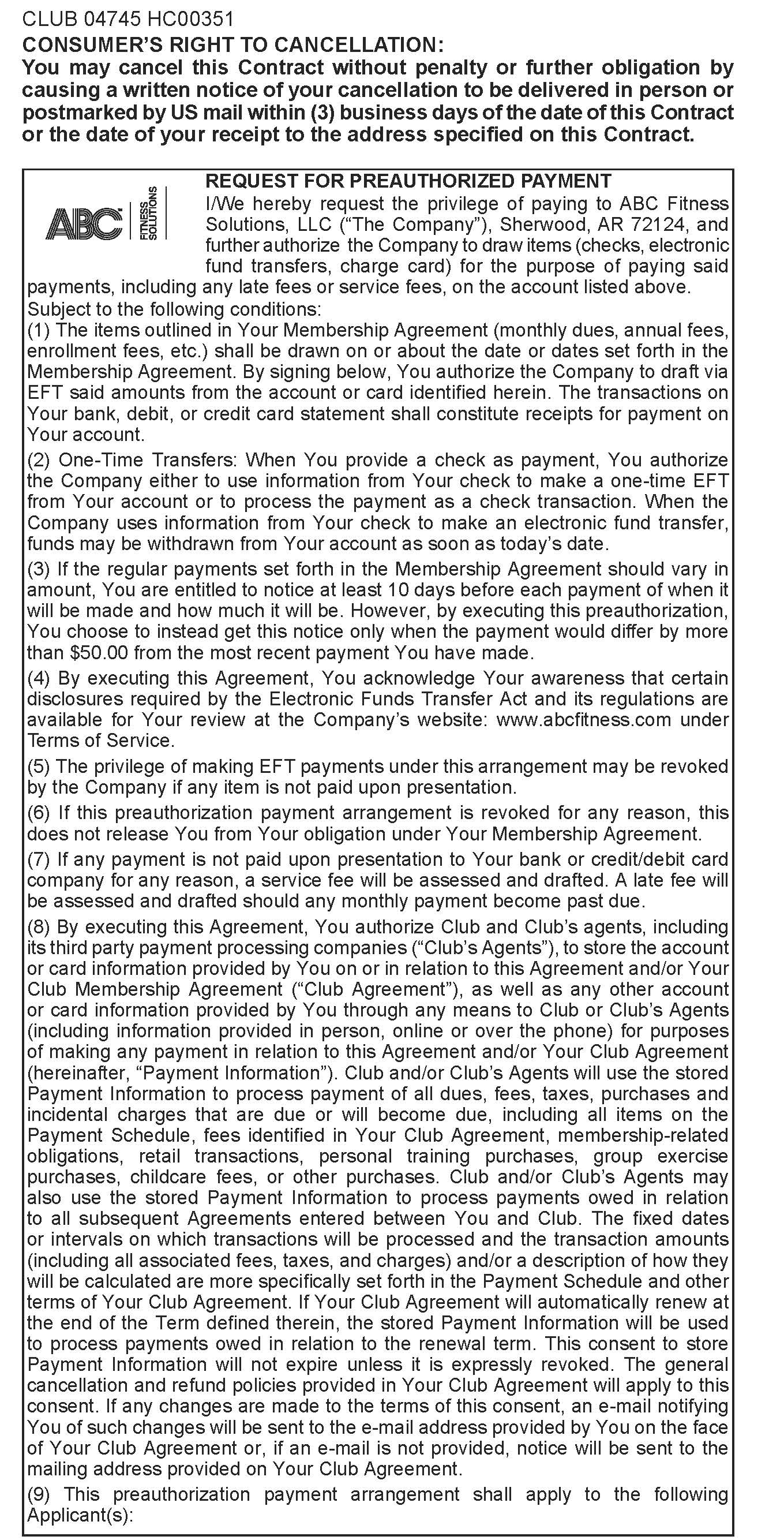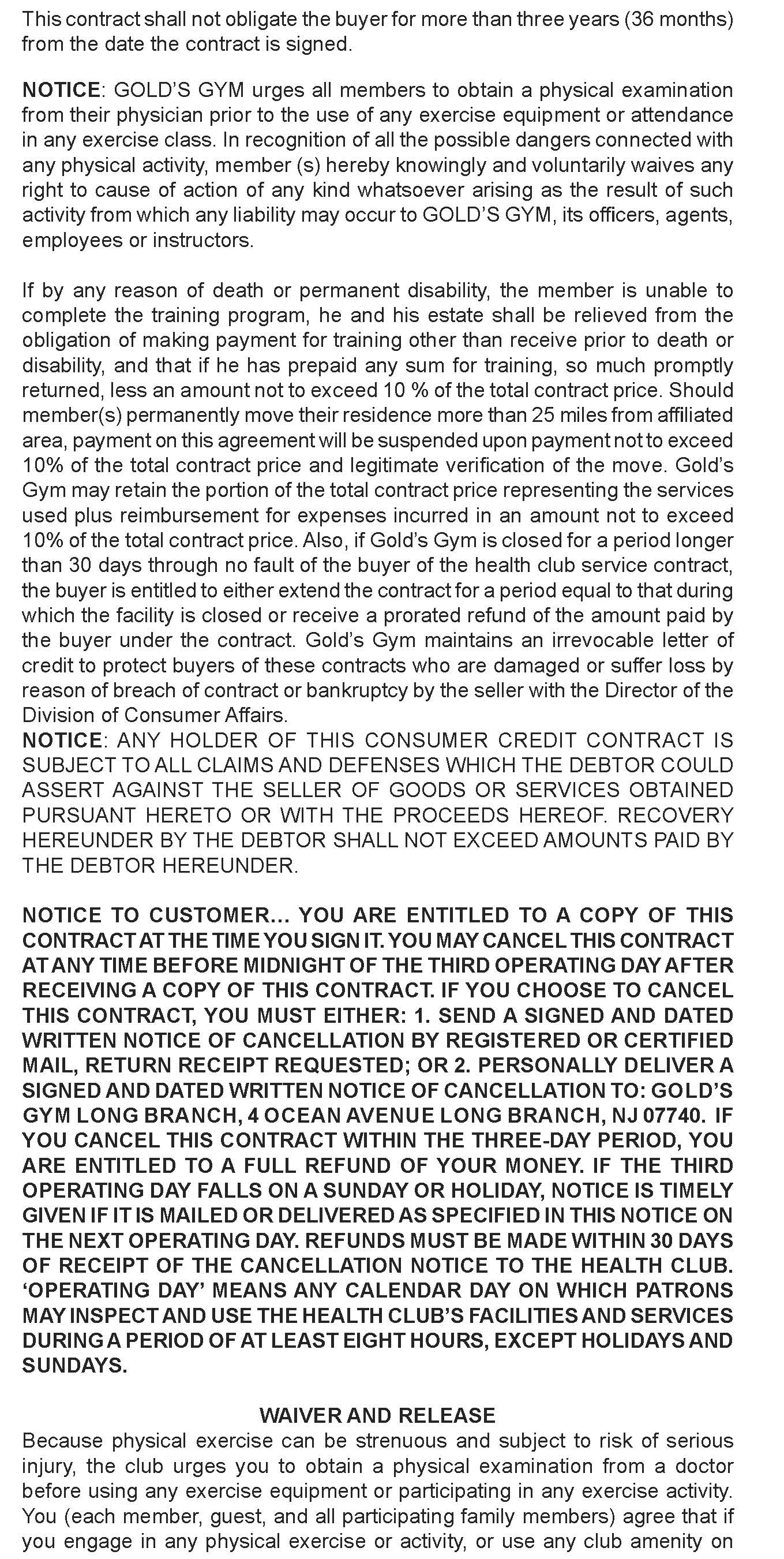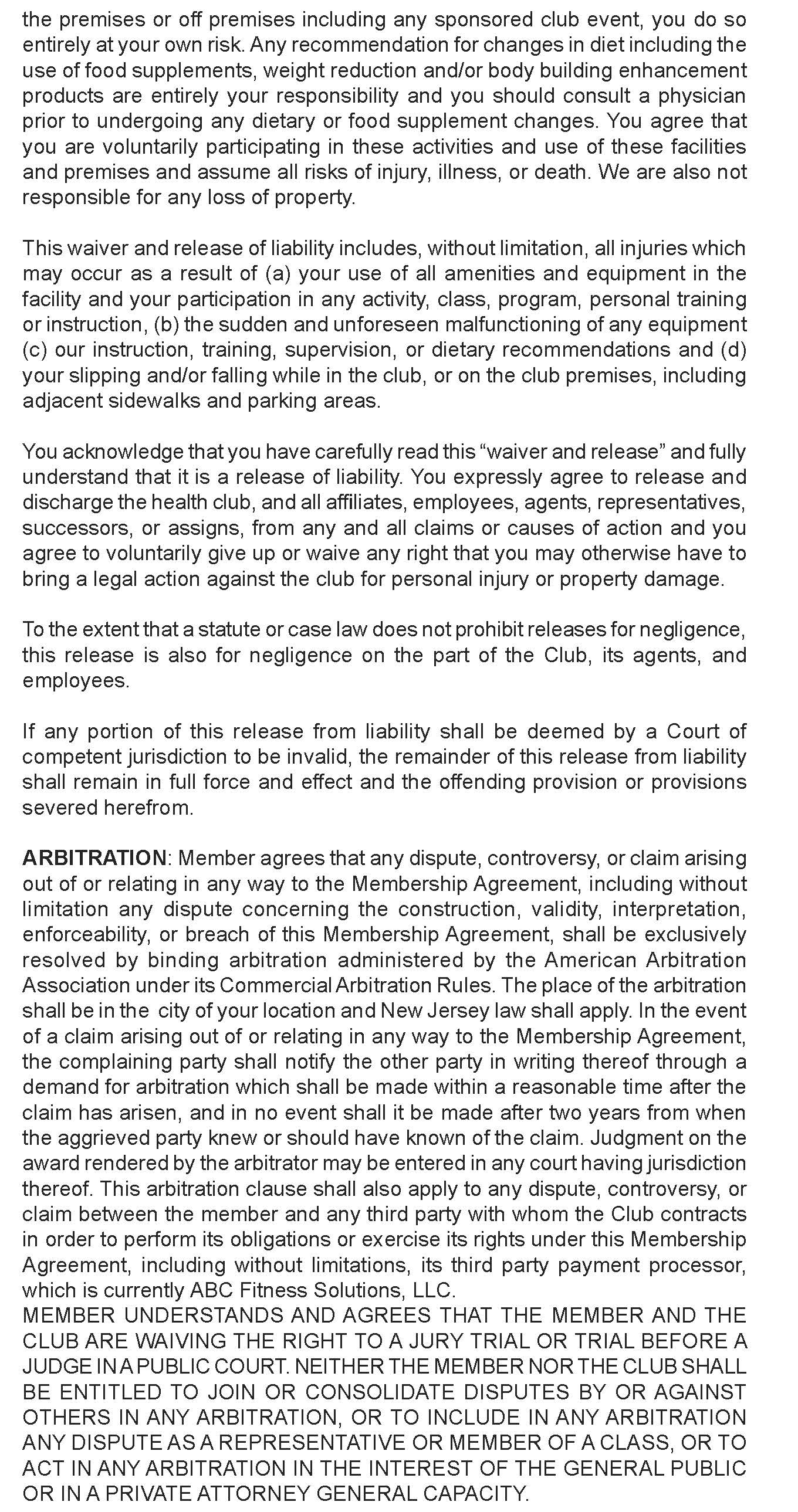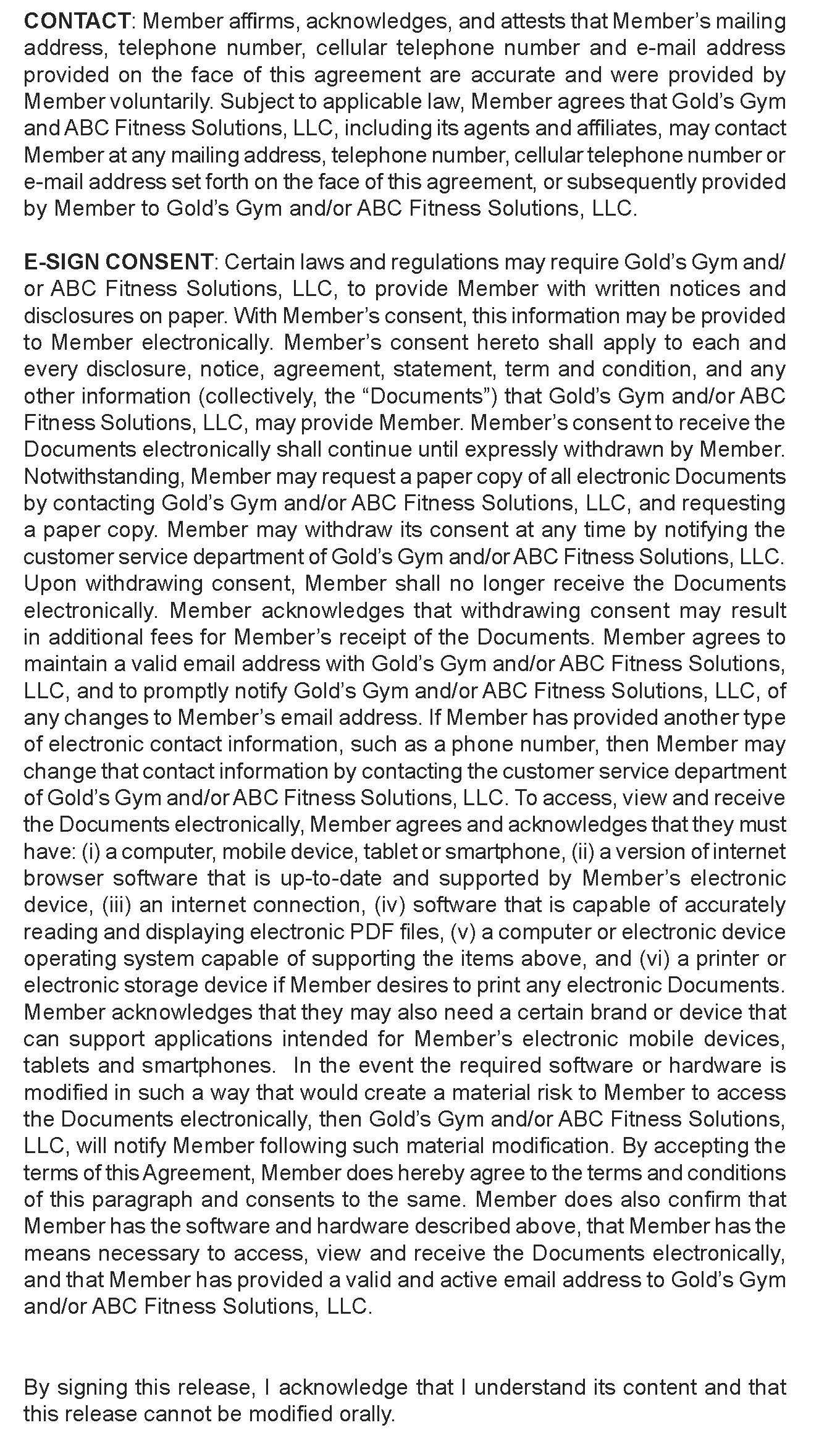 ABC Financial Privacy Policy
Privacy Policy
PRIVACY NOTICE
ABC FITNESS SOLUTIONS, LLC
Effective Date: January 1, 2020
ABC Fitness Solutions, LLC ("ABC" or "we") offers health club software-as-a-service (the "Software") and third-party payment processing and collection services ("Payment Services") to health clubs. We also operate a website site located at www.abcfitness.com (the "Website") and, as components of the Software, we operate various software applications, such as myiclubonline (the "Applications"). This Privacy Notice describes our current policy regarding the collection, maintenance, and disclosure of information concerning the general public who may visit our Website and health clubs and health club members who use our Payment Services or our Applications.
Our privacy policies and this Privacy Notice may change from time to time. Your continued use after we make changes is deemed to be acceptance of those changes, so please check the policy periodically for updates.
California Consumers – ABC's California Consumer Privacy Notice is available here.
Information Collection and Use—Generally
If a health club purchases Payment Services, we collect personal information from a health club member ("you") when you contract with a health club and create a health club member account. If your health club has purchased the Software, then through your use of our Applications, we collect information when you use your health club's facilities and services. We may also receive personally-identifiable information from our resellers and other business partners.
By using our Website, Applications, products, services, features, tools, or resources, you agree to the terms of this Privacy Notice and our Terms of Use. You may not use our Website, our Applications, or our products or services if you do not agree to this Privacy Notice and our Terms of Use. You may refuse or withdraw your consent at any time; however, we may not then be able to provide you with our full range of products and services.
This Privacy Notice does not apply to the practices of companies that we do not own or control, or to people that we do not employ or manage. In particular, if you access our Applications through your health club's website, you may want to review your health club's privacy policy because this Privacy Notice does not apply to your health club's website and we do not review or monitor any health club's website and we are not responsible for the contents or privacy policies related to any other website. Likewise, if our Website contains a link to a website owned and/or operated by someone else, such website's use may be subject to different and additional terms of service and privacy policy terms and conditions.
We may also use third-party vendors, such as Google Analytics, to advertise to our users online. These third-party vendors may display product advertisements on other websites based on your internet usage. More specifically, these vendors use first-party cookies (such as the Google Analytic cookie) and third-party cookies (such as the DoubleClick cookie) together to inform, optimize, and serve ads based on your past visits to the Website or another site affiliated with our products or services. Any information that these third parties collect via cookies is not linked to any personally identifiable information (name, address, email address, or phone number) we collect or you provide on the Website. You can opt-out of Google Analytics for Display Advertising by using Google's Ads Settings.
Information Collection and Use—Payment Services
When a health club purchases Payment Services and registers with us, we ask for the contact information (such as name, street address, and email address) of an individual responsible for the health club, as well as certain information pertaining to the health club's business, including, without limitation, billing information such as a bank account and/or credit card number.
In the course of processing a payment transaction, we typically receive from the health club or a financial institution information related to the transaction. This normally includes information about the payment that a health club member has furnished the health club or financial institution in placing the order.
Although the personally-identifiable information we acquire in processing payment transactions varies according to the nature of the transaction and the way in which a health club or financial institutions uses our Payment Services, the information collected typically includes: name, postal address, email address, phone numbers, bank account or credit/debit card information, photographs, and communications with us including e-mail correspondence and audio recordings of phone calls with consumers about their accounts. We use information we collect or obtain in connection with our Payment Services to communicate with health club members, process and collect payments owed to its health club clients, and maintain up to date account information for consumers. A payment transaction may include, for example, the amount of the transaction, the consumer's name, credit card number and expiration date, checking account number, billing address, and shipping address.
In providing Payment Services, we use the information collected to fulfill a health club's requests for certain products and services, to process payment transactions, to facilitate billing, and otherwise deliver the Payment Services. We may also send Health clubs service announcements, newsletters, and periodic notices about specials, new products and services, and products and services offered by our business partners. In connection with our Payment Services, we use personally-identifiable consumer information to process payment transactions and for no other purpose. We may also collect personal information about you from other sources as needed to complete your transactions with your health club to deliver communications to you more easily. We obtain information from our health club clients and third-parties, such as public records databases, that provide updated contact information to us.
Information Collection and Use—Software, Applications, and Website
If a health club purchases our Software, through your use of our Applications, we collect information associated with your use of your health clubs' services. Depending on what services your health club acquires from us, this information may include information such as your health club facility access, health club facility utilization, health club equipment usage, and, if your health club has created custom data fields, biometric information such as heartrate, body measurement, or performance information. We use information we collect or obtain in connection with our Software to provide the Software to your health club.
The information we may collect through your use of our Applications may include, but is not limited to:
your contact information to create an account, such as your first name, last name, phone number, and email address;
information to register for your account in our Applications, such as first name, last name, email address and other health club membership information, as well as a username and password to access our Applications;
your transaction history relating to the use of your health club, which may include your purchase of certain products or other information you wish to share with your health club through our Applications;
health club membership-related information, such as your home address, your health club location(s), key FOB number, and membership number;
fitness-related information you provide in the membership process, such as your height, weight, general fitness-related goals or other information helpful to achieving your fitness goal;
information regarding training sessions, classes, or other information regarding your utilization of services from your health club;
correspondence with your personal trainer or health club regarding your activity;
information provided by you when you participate in a survey or communication to you regarding your use of our Applications, or utilizing services offered by your health club;
information provided by you to participate in advertising contests or sweepstakes;
various account information related to your health club membership to allow you to update credit card, bank account, other payment information, or any other information regarding your profile;
if we offer alternative sign ins, we may collect certain sign on information you have provided to third parties, such as Facebook or Twitter, when you sign on to use our Site or Apps through these third parties;
computer data or files, often called "cookies," which may be sent by your web browser and stored on an individual computer to allow our server to "recognize" you through the navigation of the Site and for us to credit your account for various online transactions;
Your IP address to measure our website traffic and to help provide a more personalized experience.
To fully utilize the products and services available through our Applications, you may choose to download separate applications owned and operated by unrelated third-parties, and you may opt to have the information entered into those applications automatically integrate with our Applications, or vice-versa. Information entered and retained on any third-party application is governed by the third-party's privacy policies and terms and conditions. We may also integrate our Applications with other applications or platforms, such as a wearable device tracking application or additional applications that are useful to integrate your fitness goals and activity. If you choose to integrate information collected by a separate application or entity, once integrated with our Applications, we will also have access to and the right to use the data provided to your member profile. Any of these third party applications will have their own privacy policies and terms regarding the collection, use and maintenance of data entered through that third party application.
Children Under the Age of 13
Our Website and our Applications are not designed for or directed at children and we do not knowingly collect information from any person under the age of 13. If you are under the age of 13, please do not submit any personal information to us through the Website or any Application. If we learn we have collected or received personal information from a child under 13, we will delete that information.
Information Sharing and Disclosure
Protecting personally-identifiable information about health clubs and consumers is an important part of our business. We share and disclose such information as described below:
We may share personal information about you with your consent or as permitted or required by law. We may share information with our health club clients, debt collection agencies with whom our health club clients contract, service providers we hire to perform functions on our behalf or to assist us in carrying out our Payment Services, and other parties involved in processing the transactions between you and your health club in relation to your health club account. If a health club purchases our Software, we may also share personal information about a consumer with third-party vendors, such as fitness-related software applications, with which either your health club or you have contracted to provide services directly to you.
We also share information when it is appropriate, necessary, or required to comply with law; when it is necessary to enforce or apply the terms and conditions of our Merchant Agreement with a health club or other applicable agreements; or when it is necessary to protect the rights, property, or safety of our users, or others, which may include the exchange of information with other organizations for fraud protection and/or risk reduction.
In the event that we are acquired, health club account information and your account information may be one of the transferred assets.
Information Security
Information security is critical to our business. We work to protect the security of your information during transmission by using Secure Sockets Layer (SSL) software, which encrypts information you input. We store information gathered on secure computers located in a locked data center. The number of employees involved in the management of the data center that have physical access to these computers is limited. We use firewalls and other security technology to prevent our computers from being accessed by unauthorized persons.
We also require that any personally-identifiable consumer information sent to us by you be encrypted using SSL encryption. To learn more about SSL, visit: ssl.com
It is important for you to protect against unauthorized access to your Login ID/password and to your computer. Be sure to sign off when finished using a shared computer and otherwise protect the password used to access the services of ABC.
We take reasonable precautions and have implemented managerial and technical procedures to try to protect the security of data and information, including personal information. However, we cannot guarantee against any loss, misuse, unauthorized disclosure, or alteration or destruction of data or personal information. You provide your personal information to us at your own risk. You acknowledge that: (1) there are security and privacy limitations in computer systems and on the Internet which are beyond our control; (2) the security, integrity, and privacy of any and all information and data exchanged between you and us through the Websites and/or the Applications, including personal information, cannot be guaranteed; and (3) any such information and data, including personal information, may be viewed or tampered with by a third party while such information or data is being used, transmitted, processed, or stored.
Account Information and Preferences
We give you the ability to edit your account information and preferences at any time, including whether you want us to contact you about specials and new products, by contacting Client Services at 888-622-6290.
Notice for non-US Users
We are located in the United States. Any information that you provide to us will be transferred out of the country in which you reside and into the United States. By providing personal information to us, you are consenting to its storage and use as described herein.
Changes to this Privacy Policy
We reserve the right to modify or amend this Privacy Notice at any time and for any reason. If there are material changes to this statement or in how we will use personally-identifiable information, we will post notice on our Website prior to implementing the change. The amended Privacy Notice shall automatically become effective immediately after they are posted. Your continued use of the Website or our Applications after the posting of the amended Privacy Notice on the Site constitutes your affirmative: (a) acknowledgment of the terms and its modifications; and (b) agreement to abide and be bound by the terms, as amended.
If you have additional questions about this Policy, please contact Client Services at 888-622-6290.
ABC Financial Terms & Conditions
ELECTRONIC FUNDS TRANSFERS & YOUR RIGHTS AND RESPONSIBILITIES
---
The Electronic Funds Transfers we are capable of handling are indicated below (some of which may not apply to your account). Please read this disclosure carefully because it tells you your rights and obligations for these transactions. You should keep this notice for future reference.
Type of Transfers: Preauthorized Withdrawals. You may make arrangements to pay your monthly balance from your checking accounts or other accounts. Charges for EFT's. Except as indicated elsewhere, we do not charge for electronic fund transfers. Stop Payment Procedures and Notice of Varying Amounts for Preauthorized Transfers; Right to stop payment and procedure for doing so. If you have told us in advance to make regular payments out of your account, you can stop any of these payments. Here is how: Call or write us at the telephone number or address listed in this disclosure three business days or more before the payment is scheduled to be made. If you call, we may also require you to put your request in writing and get it to us within 14 days after you call.
Notice of Varying Amounts. If these regular payments vary in amount, you are entitled to notice at least 10 days before each payment, when it will be made and how much it will be. We prefer, however, that you choose to instead get this notice only when the payment would differ by more than a certain amount from the previous payment, or when the amount would fall outside certain limits that you set.
Liability for failure to stop payment of preauthorized transfer. If you order us to stop one of these payments three business days or more before the transfer is scheduled, and we do not do so, we will be liable for your losses or damages.
Our Liability for failure to make transfers. If we do not complete a transfer to or from your account on time or in the correct amount, according to our agreement with you, we will be liable for your losses or damages. However, there are some exceptions. We will NOT be liable, for instance: (1) if, through no fault of ours, you do not have enough money in your account to make the transfer; (2) if the transfer would go over the credit limit on your overdraft line; (3) if circumstances beyond our control (such as fire or flood) prevent the transfer, despite reasonable precautions we have taken; (4) there may be other exceptions stated on our agreement with you.
Disclosure of Account Information to Third Parties. We will disclose information to third parties about your account or the transfers you make under the following circumstances: (1) where it is necessary for completing transfers; (2) in order to verify the existence and condition of your account for a third party, such as a credit bureau or merchant; (3) in order to comply with government agency or court orders; or (4) if you give us written permission.
Regulatory Authority. If you believe that any provision of the Electronic Funds Transfer Act has been violated, you should notify your state's attorney general or the Federal Reserve Board.
Error Resolution. In case of errors or questions about your electronic transfers, call or write us at the telephone number or address listed in this disclosure, as soon as you can if you think your statement or receipt is wrong, or if you need more information about a transfer listed on the statement or receipt. We must hear from you no later than 60 days after we sent the FIRST statement on which the problem or error appeared.
When you contact us be sure to have the following information:
(1) Your name and account number (if any).
(2) Description of the error or transfer you are unsure about, and explain as clearly as you can why you believe it is an error or why you need more information.
(3) Tell us the dollar amount of the suspected error. If you tell us orally, we may require that you send us your question or complaint in writing within 10 business days. We will tell you the results of our investigation within 10 business days (20 business days if the transfer involved a point-of-sale transaction or a foreign initiated transfer) after we hear from you and will correct any error promptly. Under cetain circumstances, we may take up to 45 days (90 days if the transfer involved a point-of-sale transaction or a foreign initiated transfer) to investigate your complaint or question. If we decide to do this we will re-credit your account within 10 business days (20 business days if the transfer involved a point-of-sale transaction or a foreign initiated transfer) for the amount you think is in error, so that you will have the use of the money during the time it takes us to complete our investigation. If we ask you to put your complaint or questions in writing and we do not receive it within 10 business days, we may not re-credit your account. If we decide that there was no error, we will send you a written explanation within three business days after we finish our investigation. You may ask for copies of the documents we used in our investigation.
If you have inquiries regarding your account, please contact us at:
ABC Financial Services, LLC
8320 Highway 107
Sherwood, AR 72120
BUSINESS HOURS: 8:00 a.m. to 5:00 p.m., Monday, Tuesday, Wednesday, Thursday, Friday; Excluding Federal Holidays. Closings as announced. Error reports accepted Monday through Friday only.
PHONE: (501) 515-5000
MORE DETAILED INFORMATION IS AVAILABLE UPON REQUEST
---
STORED PAYMENT CREDENTIAL POLICY
By executing this Agreement, You authorize Club and Club's agents, including its third party payment processing companies ("Club's Agents"), to store the account or card information provided by You on or in relation to this Agreement and/or Your Club Membership Agreement ("Club Agreement"), as well as any other account or card information provided by You through any means to Club or Club's Agents (including information provided in person, online or over the phone) for purposes of making any payment in relation to this Agreement and/or Your Club Agreement (hereinafter, "Payment Information"). Club and/or Club's Agents will use the stored Payment Information to process payment of all dues, fees, taxes, purchases and incidental charges that are due or will become due, including all items on the Payment Schedule, fees identified in Your Club Agreement, membership-related obligations, retail transactions, personal training purchases, group exercise purchases, childcare fees, or other purchases.
Club and/or Club's Agents may also use the stored Payment Information to process payments owed in relation to all subsequent agreements entered between You and Club. The fixed dates or intervals on which transactions will be processed and the transaction amounts (including all associated fees, taxes and charges) and/or a description of how they will be calculated, are more specifically set forth in the Payment Schedule and other terms of Your Club Agreement. If Your Club Agreement will automatically renew at the end of the Term defined therein, the stored Payment Information will be used to process payments owed in relation to the renewal term.
This consent to store Payment Information will not expire unless it is expressly revoked. The general cancellation and refund policies provided in Your Club Agreement will apply to this consent. If any changes are made to the terms of this consent, an e-mail notifying you of such changes will be sent to the e-mail address provided by You on the face of Your Club Agreement or, if an e-mail is not provided, notice will be sent to the mailing address provided on Your Club Agreement.
---
TRISOURCE MERCHANT TERMS AND CONDITIONS
Gold's Gym - Jersey Shore Agreement Notes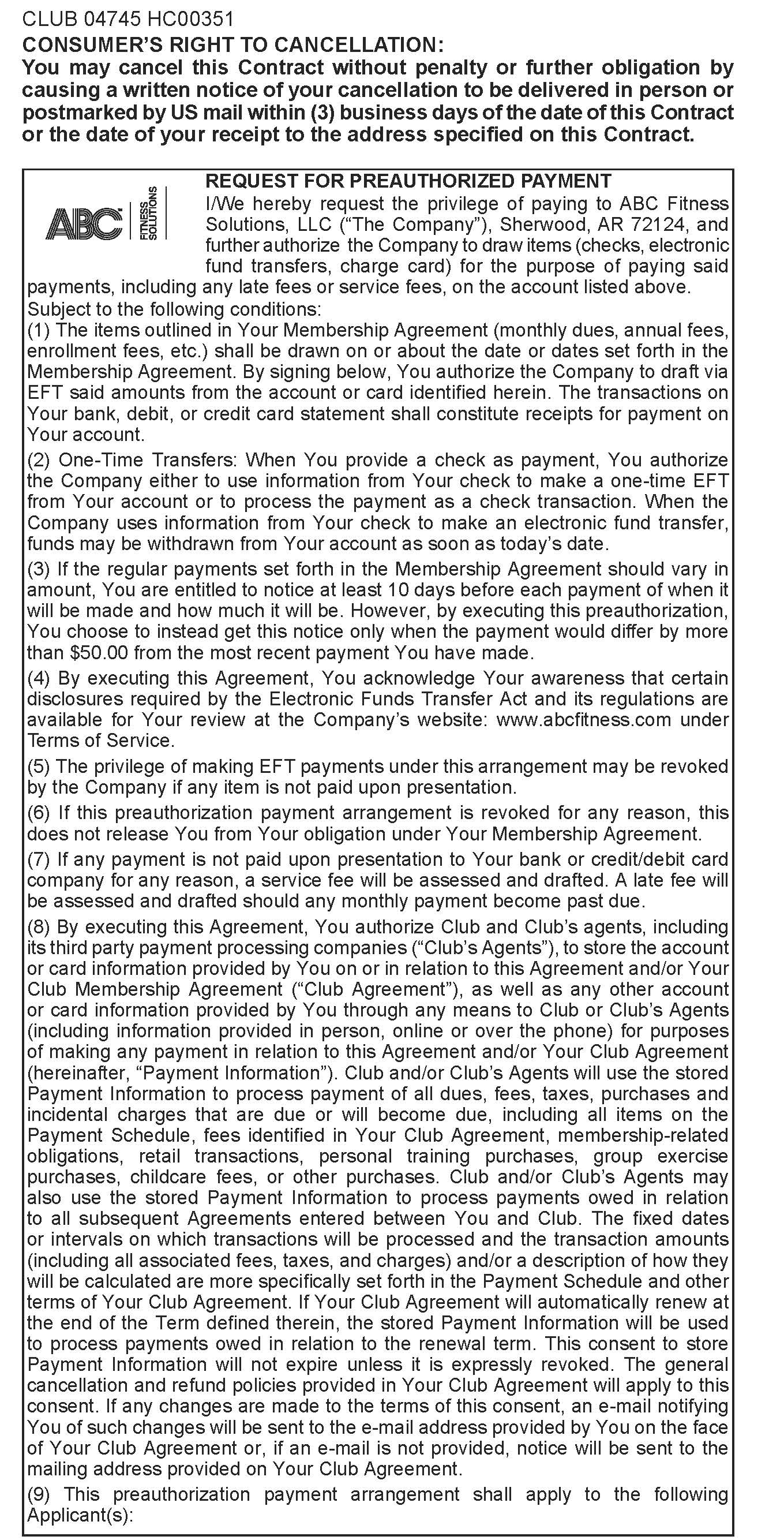 Golds Gym of Long Branch
4 Ocean Ave. HC01351
Long Branch, NJ 07740
Plan: GOLDS GYM OPEN END
Due Now
$159.83 [

+

] Details
Recurring Payments
$74.95 Monthly [

+

] Details